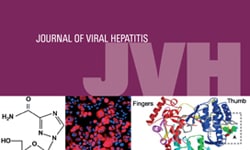 "Chronic hepatitis C virus (HCV) infection is a risk factor of insulin resistance, and HCV-infected patients are at a high risk of developing diabetes.
In the general population, research has shown the potential benefit of cannabis use for the prevention of diabetes and related metabolic disorders.
We aimed to test whether cannabis use is associated with a lower risk of diabetes in chronic HCV-infected patients.
After multivariable adjustment, current (AOR [95%CI]: 0.49 [0.38-0.63]) and former (0.81 [0.67-0.98], p<.001) cannabis use were both associated with a reduced odds of diabetes. Conversely, male gender, tobacco use, elevated BMI, poverty, being a migrant and advanced fibrosis were associated with increased odds of diabetes. The association between cannabis use and diabetes was maintained in the stratified analysis.
In this large cross-sectional study of chronic HCV-infected patients, cannabis use was associated with a lower risk of diabetes independently of clinical and socio-behavioral factors. Further studies are needed to elucidate a potential causal link and shed light on cannabis compounds and mechanisms involved in this relationship."